Family Tree
The Wentworth/Fitzwilliam Family Tree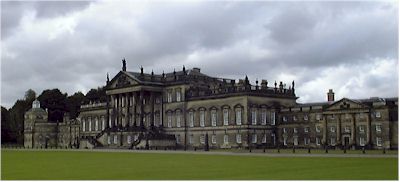 Wentworth Woodhouse: The Family Seat
Family Tree Introduction
The Wentworth/Fitzwilliam Family Tree provides detailed information about the Wentworth, Watson and Fitzwilliam families who dominated Wentworth Village for generations from the stately home of Wentworth Woodhouse. It brings together hundreds of individuals dating back to the reign of Henry II.
How To Use the Family Tree
There is too much information to display everything at once, so we've made the Family Tree interactive. To use it, first choose a Starting Point from the list below. This will show you details for the person you have selected with up to two or three generations above and below (you may need to use the scrollbars to bring the tree into view). You can then:-
Click on any name to focus on a different person
Use the Zoom Out (-) button to view more generations
Use the Zoom In (+) button to view fewer generations
If you're looking for someone in particular you can select them from the comprehensive Wentworth Family Tree Index. If you're just browsing then the following are good people to start with:-
Pictures Wanted
If anyone has any pictures that we can use in the family tree then please contact us with details. Here are a couple we've found:-
Your Feedback is Welcome
We would appreciate any feedback about the family tree, including corrections and additions. Please contact us with any comments. We would be particularly interested in copies of photos/portraits of people in the tree as these can be added in to increase the visual interest.
Web Links
| | |
| --- | --- |
| | UK Genealogy Interests Directory – a Family History site which allows people to contact other people who are researching the same surnames in the UK or Ireland. |
Acknowledgements
Data for the family tree is taken from various sources including research on various genealogy news groups, including soc.genealogy.medieval and soc.genealogy.britain.
The family tree display software is adapted from an original set of Perl scripts by Simon Ward – downloads available at www.simonward.com
An alternative family tree of the Earls Fitzwilliam can be found at http://www.cracroftspeerage.co.uk/online/content/index422.htm#FITZWILLIAM_1716_7