Keppel's Column

At 115 feet, Keppel's Column is the tallest of the Wentworth follies; it was originally planned to be even taller and capped with a statue of Admiral Keppel, but evidently the Marquis of Rockingham ran short of funds. It was designed by John Carr, who was also responsible for the Wentworth Woodhouse stables and the family's Irish house at Coollattin.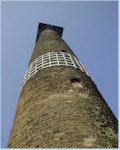 Admiral Keppel was a friend of the Marquis and a fellow Whig who was court-martialled following a naval defeat at the hands of the French in 1777. The Marquis had already planned to build a pillar to mark the southern boundary of his park, but following Keppel's acquittal he adapted the design and aimed to create a triumphal pillar by way of celebrating what he saw as a defeat for the government.
Sadly the building as designed wasn't completed, which leaves us with an oddly proportioned tower which seems to bulge out slightly due to the entasis about three quarters of the way up (had it been completed to it's full height this architectural effect should have made it appear straight from a distance).
The tower, which has an internal spiral staircase, was open to the public until the 1960s but it is now in a dangerous condition and is kept locked. The current owners, Rotherham Borough Council, seem to have added strengthening to the lower part of the tower as a precaution. It isn't known if there are any plans to reopen the tower, but now that the other Wentworth follies are all open at various times it's a shame not to be able to take in the complete set! In the meanwhile you can view the tower at close quarters from the public footpath running from Admiral's Crest in Scholes.
Web Links
You may like to visit Ink Amera for more extensive coverage of Keppel's Column and all other Wentworth follies.
Tags: follies, keppel's column, Monuments, wentworth