Wednesday, January 6th, 2010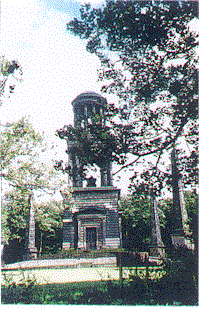 Rockingham Mausoleum
Situated in Mausoleum Wood near the hamlet of Nether Haugh. Commissioned in 1783 by the 4th Earl Fitzwilliam in memory of his uncle Charles 2nd Marquis of Rockingham (whose body is actually in York Minster). Architect John Carr of York designed the three-storeyed building, 90ft high.
The ground floor and enclosed hall is solid and square containing a statue of the 2nd Marquis by Nollekens and casts of the original fine busts of eight of his closest friends. Above this level, an open colonnade with an arcade of Corinthian columns surrounding an empty sarcophagus. The third level is a cupola resembling a Roman temple.
Open to the public on Sunday afternoons between 2-5pm between Spring Bank Holiday and August Bank Holiday only. Parties catered for on request to the Estate Office, Wentworth.
Web Links
You may like to visit Ink Amera for more extensive coverage of the Rockingham Mausoleum and all other Wentworth follies.
For information about mausolea in general The Mausolea and Monuments Trust web site is a good starting point.