Tuesday, January 5th, 2010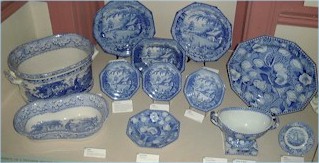 Part of the Rockingham Pottery collection on display at Clifton Park Museum, Rotherham
The Rockingham Pottery was one of many local industries supported by the Fitzwilliam family. The pottery was based in Swinton, a few miles from Wentworth village. It was originally established by Joseph Flint in 1745 but was taken over by the Brameld family in 1806 with the backing of the 4th Earl Fitzwilliam. The Earl also stepped in to save the pottery in 1825 when it was almost made bankrupt and it was around this time that the trademark Rockingham porcelain first went into production.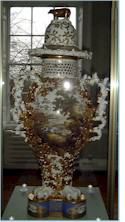 The Rockingham china, with it's distinctive Griffin crest, soon became world famous and was purchased by many of the leading nobles of the day. Sadly production was very short lived: the last major undertaking to produce a 200 piece dessert service for King William IV seemed to have been achieved at the expense of commercial viability and the pottery closed in 1842.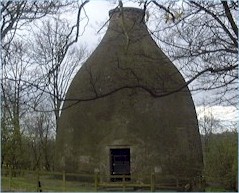 Because of it's comparative rarity, Rockingham Pottery is now highly sought after and achieves excellent prices at auction. For those wanting to view the pottery, Clifton Park Museum in Rotherham has one the most extensive collections in the world, including the famous "Rhinoceros Vase" (at the time the largest single cast piece of porcelain the world) which was housed in Wentworth Woodhouse until sold by the Fitzwilliam family in 1948 to pay Death Duties.
All that remains of the Rockingham Pottery today is the massive Waterloo Kiln (named after the battle of the same name) which is located just off the B6092 near Swinton. Following the closure of the pottery the Kiln was used for some time as an isolation hospital, and then until 1951 as a private dwelling. The Kiln is now maintained by Rotherham Borough Council. The area surrounding the kiln, including the ponds formerly used to supply water for the works, has now been converted into a small nature reserve.