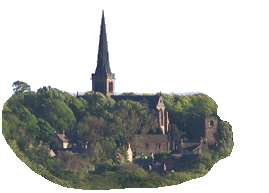 Site Contents
Features


Wentworth Family Tree


Wentworth Estates

Parish Council


History
Wentworth Gallery
To reduce download times, some of the photographs on our web pages have been reduced in size and don't always do justice to their subjects. In the Wentworth Gallery we aim to present a selection of quality photographs of Wentworth area which you can view at full size. Click on the thumbnails in the list below to view the full photo; the "size" column will give you an idea how long each photo will take to download.
Note that the photos are protected by copyright and must not be reproduced without permission.
If you have any good photos of the area which you would allow us to include then please contact us with details. All contributions gratefully acknowledged.
| Preview | Description | File Size |
| --- | --- | --- |
| | Best Kept Village - The South Yorkshire Best Kept Village award in the village car park - by Daren Loxley | 157 KB - approx 31.4 secs to download with 56K modem |
| | Birds 1 - A close-up shot taken at Wentworth Family Farm - by Daren Loxley | 87 KB - approx 17.4 secs to download with 56K modem |
| | Birds 2 - Another excellent photo from Daren Loxley - by Daren Loxley | 81 KB - approx 16.2 secs to download with 56K modem |
| | Bluebeard's Tower - The belfry on Bluebeard's Tower at Wentworth Woodhouse - by Daren Loxley | 39 KB - approx 7.8 secs to download with 56K modem |
| | Bluebells - Bluebells in Barley Hole Springs - by Martin Gill | 173 KB - approx 34.6 secs to download with 56K modem |
| | Courtyard at Wentworth Woodhouse Stables - Showing the ornamental fountain - by Daren Loxley | 69 KB - approx 13.8 secs to download with 56K modem |
| | Garden Path - Path through the Japanese Garden to the Bear Pit - by Daren Loxley | 326 KB - approx 65.2 secs to download with 56K modem |
| | Gardens - A view of Wentworth Woodhouse gardens following recent restoration - by Daren Loxley | 181 KB - approx 36.2 secs to download with 56K modem |
| | Holy Trinity Parish Church - An excellent shot of the Parish Church taken around the time of the 2002 Jubilee celebrations - by Daren Loxley | 83 KB - approx 16.6 secs to download with 56K modem |
| | Le Bistro - View of Le Bistro on Main Street - by Derick Toy | 97 KB - approx 19.4 secs to download with 56K modem |
| | Millennium Beacon - The beacon on the village playing fields was lit at the start of the new Millennium - by Daren Loxley | 51 KB - approx 10.2 secs to download with 56K modem |
| | Path to the Church - An unusual view of the 'Back Lane' leading to Wentworth Church - by Daren Loxley | 163 KB - approx 32.6 secs to download with 56K modem |
| | Rockingham Arms - Outside the Rockingham Arms on a sunny day - by Derick Toy | 137 KB - approx 27.4 secs to download with 56K modem |
| | Sparkle - One of Wentworth's newest residents who lives in the paddock next to the Post Office - by Derick Toy | 133 KB - approx 26.6 secs to download with 56K modem |
| | Squirrel - A squirrel photographed in the grounds of Wentworth Family Farm - by Daren Loxley | 142 KB - approx 28.4 secs to download with 56K modem |
| | The Bearpit - Entrance to the Bear Pit in Wentworth Woodhouse gardens - by Daren Loxley | 310 KB - approx 62 secs to download with 56K modem |
| | Village Shop - The Village Shop, Main Street - by Derick Toy | 88 KB - approx 17.6 secs to download with 56K modem |
| | Wentworth Woodhouse - A view of Wentworth Woodhouse built up from 4 separate shots - by Daren Loxley | 53 KB - approx 10.6 secs to download with 56K modem |