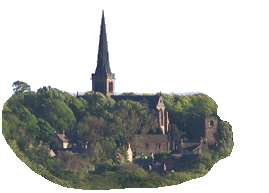 Site Contents
Features


Wentworth Family Tree


Wentworth Estates

Parish Council


History
News and Events

Hambledon Productions present
"An Apple a Day"
Written by John Hewer
Welcome to the sleepy village of Pullham Down, population twenty-seven and a half (not including the sheep), currently all in the care of Doctor Lothanial Ostrich. Enter the young, robust and recently graduated Doctor Scott Free. Accustomed to the modern world, he's bound to stir up some trouble... Add to this a gaggle of madcap villagers and a bucketful of fake blood, "An Apple a Day" is a non-stop slapstick, farcical experience that has been prescribed to tickle your funny-bone!
EPPiC Theatre, Eccelsfield
Sunday 20 July, 7.30pm
Tickets: £5
Box Office: 01472 388019

Any News?

We're happy to feature any News about events going on in the Wentworth area. Please Contact Us with any information and we'll add it to the site.

Thanks!